オッカファーム (OccaFarm) のお米は絶品!



<Distributor>
Absonix PurePremium
Parkview Yokohama 901,1-17-1 Aioi-cho,
Naka-ku Yokohama 231-0012 Japan

Who is OccaFarm
Owner: Noriaki Okamoto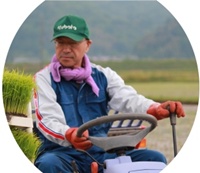 OccaFarm is a high quality premium rice producer located at Ketaka of Tottori City in Japan.
Rice cultivation is extremely sensitive to water shortage and quality, especially for short grain rice. To ensure sufficient water and to maintain flooded conditions in the field, Ketaka is a great location for the best quality of rice. Jubosan is a beautiful mountain in the back of Ketaka and supplies sufficient flowing of clean subsoil water to the rice field. As well as clean water, cultivating sweet delicious rice requires a temperature difference between morning and evening of cold and warm. Ketaka is a perfect location. Try our OccaFarm rice.
We provide the best quality rice, and guarantee your satisfaction of the taste !!
Commitment of rice cultivation
Management of high quality soil and water is the most important for rice cultivation. The best soil and water environment makes rice plants to nurture grow without chemical fertilizer. To keep the best soil condition of rice field, we are utilizing astragalus planting and compost. Continuous flooding of clean water generally provides the best growth environment for rice. Mount Jubosan provides sufficient clean subsoil water to our field. Our commitment is to cultivate rice in the best environment of high quality soil and clean water flow.



Condition of storage and shipment
Rice is kept in the stage of rice with rice chaff, not stage of the polished or brown rice. As soon as receipt of your order, we take rice chaff off and polish rice to send you the fresh delicious rice. Please try such fresh and sweet taste of rice from OccaFarm.
Introduction of agricultural crops
Rice: "Kinumusume" 5Kg. 2015 made in Tottori Prefecture.

The steam rice is beautiful white, strong stickiness and soft delicious rice.

to order

No Image

Rice: "Koshihikari" 2016 made in Tottori Prefecture.

2016 annual production Koshihikari is under cultivation.
Harvest time: Mid-September